About the Lodge
Our Facility
Gallery
Our Philosophy
Contact
Map
Evergreen Cat Lodge was formerly the Inn at Soda Creek bed & breakfast. After a year of extensive remodeling, the inn has been converted into a luxurious 3,000 sq.ft. Cat Lodge. Denver area cat lovers can rest easy knowing their pets will stay in first-class accommodations and receive top notch care at Evergreen Cat Lodge - Denver's premier cat boarding facility.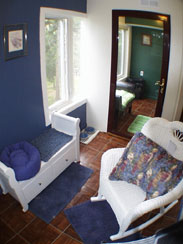 The Cat Lodge consists of 32 individual cat suites, a reception area and service areas. Each cat suite is an individual room which is tastefully decorated to resemble a home environment. Most suites have exterior windows which allow our feline guests to enjoy views of the 9 acre estate and its abundant wildlife. When not sightseeing, our guests may be found curled up on a home-made afghan in front of an electric fireplace, or perhaps lounging on a leather chair. With the owners living on site, your cat will receive a level of attention and pampering that few facilities can match. The entry to each suite is fitted with a full length glass door to make it easy to check up on our guests without disturbing them. While each of our cat suites is unique, you can rest easy knowing that your cherished pets are staying in a safe and caring environment. Just don't be too surprised if when you come to pick them up they're in no hurry to return home. Cats like to stretch their vacations too!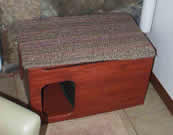 At Evergreen Cat Lodge, we want to ensure that our guest accommodations are not only comfortable, but that they are healthy for all of our boarders. That's why our two new heating and ventilation systems have been equipped with state-of-the-art air filtration and purification systems. We've even ensured an odor-free facility by housing litter boxes in custom made enclosures equipped with continuous exhaust ventilation. Our suites are constructed and furnished with materials that lend themselves to thorough cleaning and disinfecting. Plus, for its own health and safety, your cat will reside in its own suite and it will not come into physical contact with other boarders.
Denver's Premier Cat-only Boarding Facility
Some Pictures of Our Suites
At Evergreen Cat Lodge, we believe in going the extra mile to ensure that your feline companions receive the very best care available. That starts with our all-suites accommodations. We've heard all of the rationalizations about why it's OK to board cats in cages or cat condos (which are really just multi-level cages). We don't agree! "Cats don't need a lot of space since they exercise isometrically". "Cats like small spaces". "Cats just want to go off to a corner and be left alone". Nonsense! Cats need room to be happy and cats don't like change - it's stressful. Cages, even cat condos, don't give cats enough room and they sure represent a stressful change from what they're used to at home. Let's look at these two issues - room and stress - in more detail.
Some cats like small spaces some times. No doubt. However, when we see one of our cats sprawled out on the bed, four paws to the sky, we know we've got one contented cat! The truth is cats like room. It's the cat who's afraid that seeks a small, dark hiding place. Cats shouldn't be afraid while being boarded, but if kept in a cage stacked along side of other cats who are strangers to them, they often are. In this situation, they will likely find the smallest, darkest hiding place - but that doesn't mean that they like it! Cats are curious and need an environment that is stimulating. They need room to play, vertical space to jump, interesting sights, and a choice of movement and locale to stem boredom. And, if your cat is anything like ours, they need attention. We're not talking about a chin scratch from a finger poked through a cage. We mean sitting in a chair in the cat suite and letting the cat jump on up for pets and a little lap time.
Stress is a serious issue for cats. It can often make them sick. Not just nervous - sick! Physiological changes occur in cats who are experiencing stress. This can alter the functioning of their digestive tract and can lower their resistance to disease. A healthy environment for cats needs to be a low stress environment. Putting a cat in a cage for a week or more with barking dogs nearby and nothing to do is not a low stress environment. Some may feel that we have gone slightly overboard in providing roomy boarding suites decorated with leather chairs and fireplaces, but we believe that by creating a home-like environment we are providing a healthy environment. We're sure your cats will agree!
As much as we strive to ensure that the boarding experience is pleasant for our guests, we also believe it should be a positive experience for the pet's owners. We don't want our clients to feel like they are being nickeled-and-dimed for every service add-on. That's why, at Evergreen Cat Lodge, we don't charge for nail clipping, casual brushing, premium cat food, or administering one medication or food supplement (small charge for each additional). We want our clients to feel that boarding at Evergreen Cat Lodge is a unique experience for pet owners too! Please feel free to call and arrange a tour of Denver's premier cat-only boarding facility.
Mailing Address:
Evergreen Cat Lodge
32163 Soda Creek Dr.
Evergreen, CO 80439
Phone:
(303) 679-1245
(303) 362-6753 Fax
Email:
info@evergreencatlodge.com
Hours of Operation
We operate by appointment only. We accept drop offs and pick ups between the hours of 8:30AM and 6:30PM.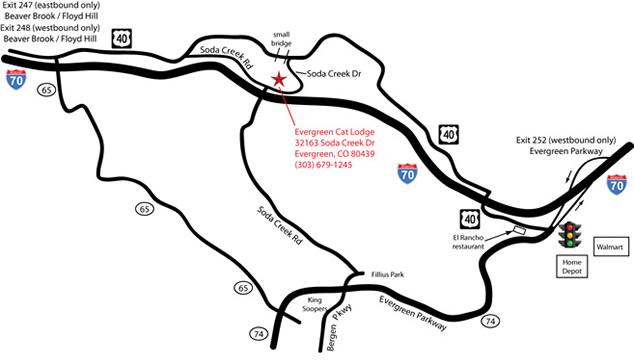 Click Here for Printable Map & Directions
From Idaho Springs:
From Denver:


I-70 East to
Exit 247 Floyd HIll
Turn Left over I-70, then
Turn Right onto US40
follow US40 approx. 1.8 mi.
Turn Right on Soda Creek Rd
Becomes Soda Creek Dr


I-70 West to
Exit 252 Evergreen Parkway
Turn Right on US40 (@ light)
Follow US40 approx. 2mi.
Turn Left on Soda Creek Dr
(just before small bridge)